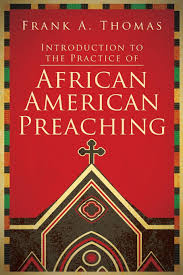 Preacher's Bookshelf
 IN-THE-SPOTLIGHT
Introduction to the Practice African American Preaching (Abingdon, 2016) 
By Frank A. Thomas
Frank Thomas is a meticulous archivist of a preaching tradition that has earned its day in the sun.  Introduction to the Practice of African American Preaching takes the reader on a bus tour into the rhetorical-poetical life world of the African American preacher. Thomas makes key pit stops at the enslaved folk preacher's invisible church; by the balcony section of the northern Black cleric's metropolitan church; on toward King's mountaintop rally in Memphis, and by sold-out concerts of Hip-Hop lyricists–lyricists poised to instructively revitalize a preaching tradition becoming increasingly irrelevant for the times.  Whether one is an experienced traveler on the homiletical road or strapping in for the first time, Thomas offers the intellectually curious traveler a comprehensive mapping of African American preaching scholarship, with important side glances to the theological and hermeneutical fuel that propels the African American preacher's persuasive proclamation. 
Thomas covers a lot of ground in this primer.  Moving from the claim that African American preaching is inherently rhetorical and theological, as any capable tour guide, he has a particular destination in mind. He ultimately wants to call each generation of pastors and scholars to wrestle with the elusive and yet potent question: What is black preaching?  The book's front matter is organized around four discrete periods of source data that trace from 1750 to the present.  Before taking an analytical turn to show how African American and European/ Euro-American preaching traditions differ, Thomas first asks readers to value both folk and intellectual genres within the tradition around which theoretical study of black preaching is fashioned.
Next, Thomas unpacks a two-fold question: What is rhetoric and what rhetorical processes shape African American preaching's oral and performative character? He draws the reader's attention to the wisdom of folklorist Zora Neale Hurston and literary critic Henry Louis Gates—thinkers who have pointed out distinctives of Black orality. The book teaches.  A close reading and rhetorical examination of the late Gardner C. Taylor's preaching, one upon whom he bestows homiletical sainthood, deservingly, follows.  Thomas notes the shifting terrain within the tradition and anticipates the coming of new voices—a millennial generation—whose "communicative expression" and poetic sermonizing demands a new hearing of the Gospel in an age of police brutality and social inequality.   Tour guide takes the passenger's seat in the final chapter.  Thomas allows readers to muse a bit with America's most controversial, beloved, and misunderstood preacher priest-prophet-sage—Rev. Dr. Jeremiah Wright—who in looking back on his seven-decades' journey shares lessons learned on the homiletical road.
One is hard pressed to heap criticism on a work that covers so much ground in so few pages.  However, one could argue that Thomas backseats the theological dimension of the tradition in his discussion. But in no way does this diminish his contribution. In fact, one could also argue that Thomas has simply left open a door for future scholars to take the wheel and drive the conversation up the road.  Frank Thomas has given the academy and pulpit a much yearned for compass for journeying into a venerable tradition that must continue to prove its worth.  Irrespective of racial-ethnic background, here's a must-read resource for any serious student of American preaching.